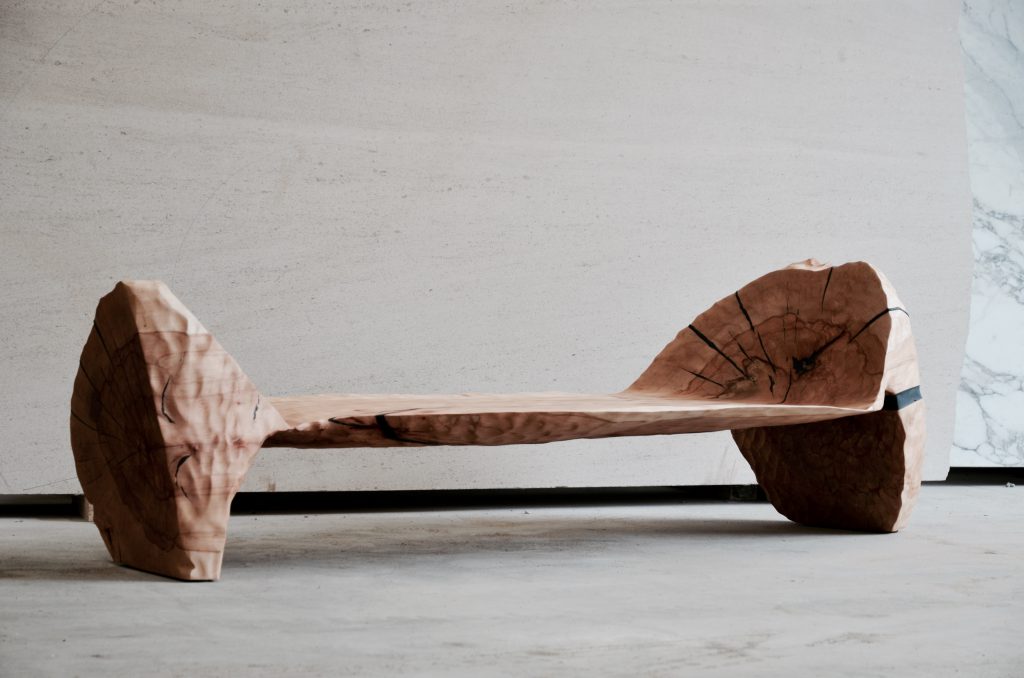 Spazio Nobile is at Art Elysées Art & Design, Paris
19– 23.10.2017, opening by invitation only: 18.10.2017, 2-10 pm.
Spazio Nobile showcases contemporary unique pieces and limited editions exploring the organic and material alchemy.
Exhibited artists and designers:
Carlo Brandelli, Jörg Bräuer, Chen & Williams, GGSV Studio, Kaspar Hamacher, Marlene Huissoud, Antonio Lampecco, Isaac Monté, Irina Razumovskaya, Adrien Rovero, Frederick Vidal.
Download our catalogue for Art Elysées.
Please send us an email if you want to receive the catalogue with prices: lc@spazionobile.com
On the picture: Kaspar Hamacher, Sculptural Bench, 2017, solid beech, 200 x 65 x 65 cm
***
At the gallery: Season VI – Piet Stockmans & Frederik Vercruysse. Blauw. Ceci n'est pas une couleur, a duo show which runs from 29 September 2017 until 4 February 2018.
Discover the pieces on our online store: Season VI
Read more on the artists Piet Stockmans and Frederik Vercruysse
*Download the invitation here and the catalogue of the exhibition: Blauw. Ceci n'est pas une couleur
*Download the press releases and a selection of pictures down this page.
__
Piet Stockmans and Frederik Vercruysse show their artistic work around the theme BLAUW on the occasion of a duo exhibition. Stockmans, the master of porcelain and inventor of the Stockmansblauw and Frederik Vercruysse, a talented architectural and interior design photographer, are exploring the gallery space through artistic installations and tactile and visual assemblages. The three rooms of Spazio Nobile Gallery will thus be enhanced by the unique works or in limited edition of two creators of a unique sensibility.
In the framework of Design September: Piet Stockmans is also giving a lecture at Flagey, Studio 3 on Tuesday 19 September 2017 – 20.15 and Spazio Nobile participates with him to the Brussels Design Market at Tour & Taxis on 23-24 September 2017 with the must-see porcelain installation, Fallen Vases (2017) and a selection of his renown handmade design bestsellers manufactured and edited by Studio Pieter Stockmans.
About the gallery
Photo Jörg Bräuer
About Spazio Nobile
By opening Spazio Nobile in April 2016, in the dynamic and cosmopolitan Ixelles neighbourhood of Brussels (Belgium), Lise Coirier and Gian Giuseppe Simeone have united their passions for design and art history, initiating a dialogue between contemporary applied arts, design and photography. Commissioning unique pieces, limited editions and installations that are both experimental and artistic, with a particular sensibility to everything nature and minerality, the gallery organises four to five exhibits each year, dedicated to both rising and established talents, without creating borders between the disciplines, the visual arts dialoguing with the fine arts.
***
À propos de Spazio Nobile
En ouvrant Spazio Nobile en avril 2016 dans le quartier très animé et cosmopolite d'Ixelles à Bruxelles (BE), Lise Coirier et Gian Giuseppe Simeone ont uni leurs passions pour la création et l'histoire de l'art en prenant le parti de faire dialoguer arts appliqués contemporains, design et photographie. En donnant l'impulsion à la création de pièces uniques, d'éditions limitées et d'installations à la fois expérimentales et artistiques, avec une sensibilité particulière à tout ce qui touche à la nature et à la minéralité, la galerie organise chaque année quatre à cinq expositions dédiées à des talents émergents ou déjà confirmés. Sans mettre de frontière entre les disciplines, les arts visuels côtoient les beaux-arts.
*Download the invitation here and the catalogue of the exhibition: Blauw. Ceci n'est pas une couleur
*Download the press releases and a selection of pictures
In French: CP_SVI-FR-Blauw-Ceci n'est pas une couleur-PStockmans-FVercruysse-DuoShow
In Dutch: PB_SVI-NL-Blauw-Ceci n'est pas une couleur-PStockmans-FVercruysse-DuoShow
In English: PR_SVI-Blauw-Ceci n'est pas une couleur-PStockmans-FVercruysse-DuoShow
Dropbox link to a selection of pictures