Brugmann en Fleurs & Spazio Nobile x Amen Restaurant, NOCTURNE 5.12.2019, from 5pm
— November, 28 2019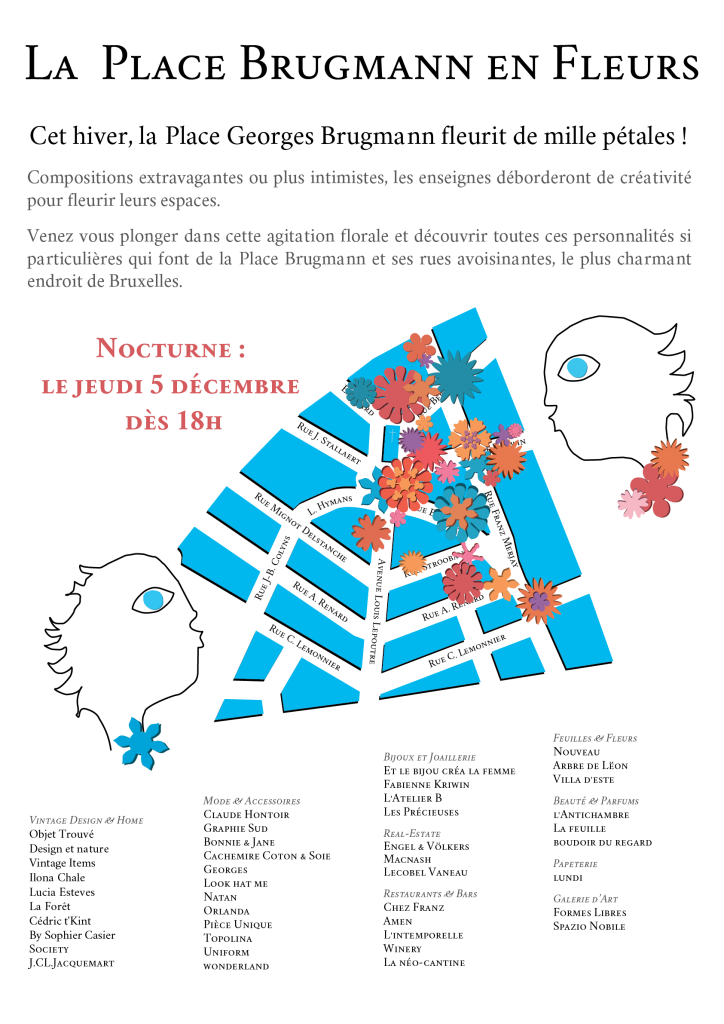 Brugmann en Fleurs & Spazio Nobile are pleased to invite you to discover more than 40 locations around Brugmann Square. All of them are highlighting their façade or shop window with a flower arrangement for these end of the year festivities.
At Spazio Nobile, rue Franz Merjay 142, you are warmly invited around a Prosecco glass to visit Season XII- The Finnish Season / Keep Your Garden Alive, an exhibition curated with the Finnish Cultural Institute to the Benelux in the framework of Finland's Presidency of the Council of the European Union.
While you are touring around Brugmann Square, you can stop by Spazio Nobile for a Prosecco time and then enjoy a dinner at Amen Restaurant, a festive menu designed especially by Amen & Spazio Nobile.
En apéritif / Appetizer:
1 coupe de champagne de la maison Antech accompagnée d'un toast au foie gras et de poulpe grillé au feu de bois / 1 glass of champaign bubbles from the house Antech accompanied by a toast with foie gras and octopus grilled over a wood fire
FR / Menu accompagné des vins sélectionnés par le sommelier d'Amen :
St Jacques poêlées, chou kale, crémeux de poireaux 
Filet de dorade royale, déclinaison autour du fenouil 
Poire pochée et son chutney
Eau & café 
EN / Menu accompanied by wines selected by Amen's sommelier:
Fried scallops, kale cabbage, creamy leeks fillet of seabream, with fennel
Poached pear and chutney
Water & coffee

__
If you miss this event, you can also pass by the gallery from Friday 6 until Sunday 8 December from 11-19.00.
We also have a last Christmas Sunday brunch on 15 December 2019, 12-16.00
Season XII – The Finnish Season / Keep Your Garden Alive 
This group exhibition co-curated by Lise Coirier & Kati Laakso features Inka Bell, Johanna Gullichsen, Antrei Hartikainen, Mari Isopahkala, Renata Jakowleff, Harri Koskinen, Veera Kulju, Tero Kuitunen, Laura Laine, Päivi Rintaniemi, Kristina Riska, Sami Ruotsalainen, Teemu Salonen, Perttu Saksa, Kustaa Saksi, Caroline Slotte, Heikki Viinikainen, Man Yau.
DOWNLOAD THE CATALOGUE. WATCH THE VIDEO FILMED BY ATELIER YENAN AT SPAZIO NOBILE HERE