"Meet the Artist" Kustaa Saksi and discover his 26m long Archipelago Woven Tapestry at the European Council, Brussels on Friday 20 September 2019, 17.30-20.00
— September, 09 2019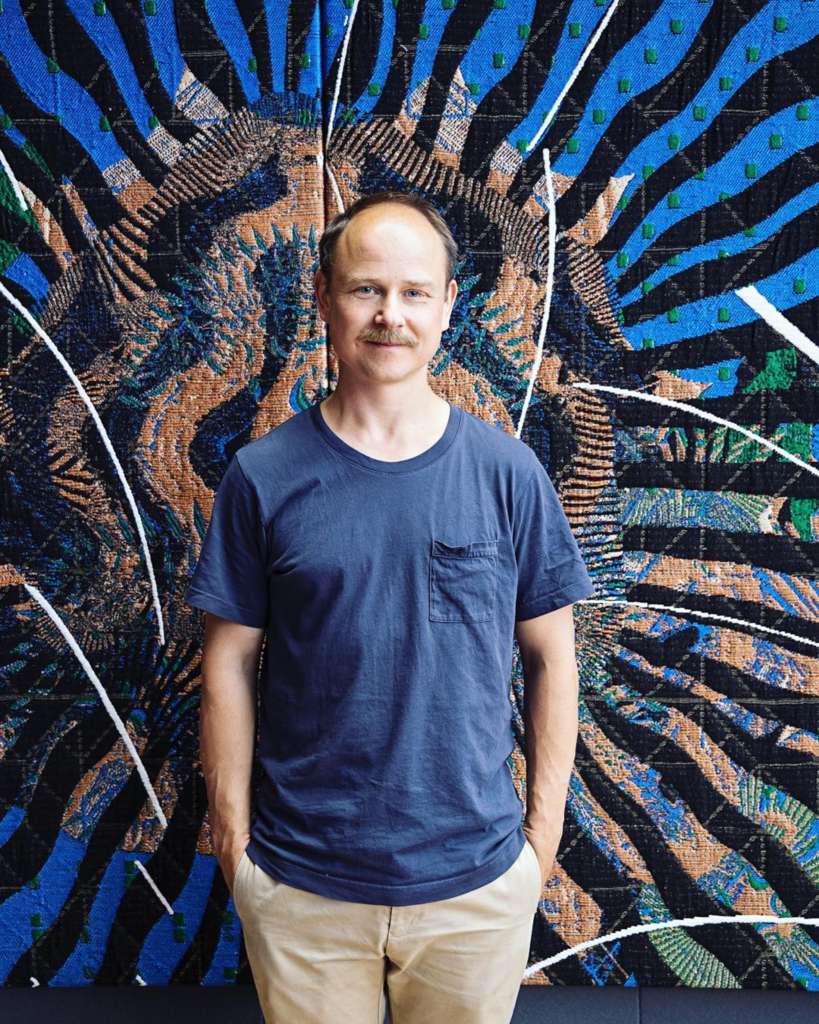 Spazio Nobile is pleased to invite you to "Meet the Artist" event which is an informal opportunity to engage with Artist Kustaa Saksi's work and to witness the artwork Archipelago commissioned by the Finnish Government to celebrate the Finnish Presidency to the European Council from July until December 2019.
This event happens on Friday 20 September at the European Council, Justus Lipsius  building (Rue de la Loi 175) between 17:30-20:00hrs
Registration starts at 17:30 (Justus Lipsius entrance)
Possibility to visit Europa building between 17:30-18:00
Registration link for the Archipelago – evening at the European Council building 
18:30 Opening words by the Finnish EU Presidency Representative
Artist Kustaa Saksi's speech
Possibility to visit Europa building between 19:30-20:00
The event is a part of the Cultural Program of Finnish EU Presidency and includes opening words by the Finnish EU Presidency Representative and speech by the artist himself followed by a Q&A session.
Ask questions and learn first-hand about Mr Kustaa's work, inspiration, and process.
For security reasons REGISTRATION is OBLIGATORY please fill all the necessary questions. Registration is open until 13th of September.
On the day of the event, please REMEMBER to BRING your Identity card or Passport to prove your identity!
__
About the Archipelago Artwork by Kustaa Saksi
Commissioned by the Finnish government, Archipelago is a bespoke, large-scale woven tapestry measuring 26 m by 2 m, which will be on display in the Europa building for the duration of Finland's Presidency of the Council of the EU. Made at the TextielLab in Tilburg in the Netherlands, this extraordinary and unique Jacquard weaving artwork is an abstract depiction of a Finnish archipelago, with its stones, islands and water. The work is inspired by natural forms such as the microscopic details of leaf surfaces, tree bark patterns, and flower petals, with a rhythmic repetition of tree trunks, flowing water, reflections, lichen shapes, and floral decoration. Abstract and imaginative, exotic and wild, the main colours of blue and green are interwoven, with a few accents of orange and black which intensify the visual impression. With its swirling yarns, Saksi's weaving has almost a 3D effect. The textile installation consists of a horizontal composition of eighteen aluminium-framed panels mounted side-by-side, each measuring approximately 1.3 m by 2 m, creating an impressive imaginary landscape, a dreamed archipelago.
All photos by Atelier YenAn 
About the artist & his woven tapestries collections
The Amsterdam-based Finnish graphic storyteller, textile artist and designer Kustaa Saksi uses Jacquard weaving in creative and innovative processes, generating a range of different textile art and installations. He has already exhibited at the Victoria & Albert Museum, the Cooper Hewitt Museum, the San Jose Museum of Art, the TextielMuseum and Kunsthall Stavanger as well as in galleries in New York, Paris, London, Helsinki, Singapore, Hong Kong, Tokyo and more. He has received commissions from clients such as Nike, Issey Miyake, Ferragamo, Lacoste, Marimekko and Swedese. With his large tapestries – all produced in limited editions of six or eight – made of mohair, alpaca, merino wools, phosphorescent yarns, cotton, viscose, acrylic and lurex, he invites the viewer into a fantastical and esoteric wonderland. The transformation of his view of nature into textiles leads to a very intense visualisation and all kinds of allegories. He knows no limits in his textile research, performed on weaving machines at the TextielLab, associated with the TextielMuseum Tilburg in the Netherlands. Painting with yarns, his tapestries are like a tableau vivant where he explores diverse craft techniques. His Hypnopompic collection is a voyage into imaginative and imaginary botanic gardens teeming with seeds, wild insects and hypnotic animals such as the owls that are often found in Nordic art and design iconography. Another recent series, Reveille, explores living elements and animals in a more abstract way, including through visual and tactile texture. Even more wild and exotic, the Woolgathering collection maximises the effect of masks and battlefields and explores an extraordinary abyss. First Symptoms is the new cycle of 6 woven tapestries in size approx 170 x 250 cm, mixed media in silk, mohair, rubberized cotton, cashmere wool, transparent polyester film, velvet, etc. They were first exhibited at the Finnish Institute in Stockholm in February 2019 before moving to Brussels. Being a lifetime sufferer, Kustaa Saksi is using Migraine as a source of inspiration : Prodrome, Aura, Attack, Post-drome, Visual Delusions. As he states about this new series of art works : "You can discover as iconography transparent oriental rugs, but infinitely small, plastic filigreed spherical objets d'art like radiolaria, wallpaper designs, cobweb-like figures or concentric circles and squares, architectural forms, buttresses, rosettes, leafwork, fretwork." "What we can say, in general terms, is that these hallucinations reflect the minute anatomical organization, the cytoarchitecture, of the primary visual cortex, including its columnar structure— and the ways in which the activity of millions of nerve cells organizes itself to produce complex and ever-changing patterns. We can actually see, through such hallucinations, something of the dynamics of a large population of living nerve cells and, in particular, the role of what mathematicians term deterministic chaos in allowing complex patterns of activity to emerge throughout the visual cortex. This activity operates at a basic cellular level, far beneath the level of personal experience. They are archetypes, in a way, universals of human experience." –Oliver Sacks, Neurologist
Visit Season XII – The Finnish Season /Keep Your Garden Alive as part of Design September
Opening on 19 September 18-22.00 at Spazio Nobile, rue Franz Merjay 142, 1050 Brussels
From 20 September until 22 December, Wedn to Sat 11.00-18.00 or by appointment.