Lake Como Design Festival: Spazio Nobile & TLmag exhibit Manon Daviet, 5-10 October 2021
— October, 05 2021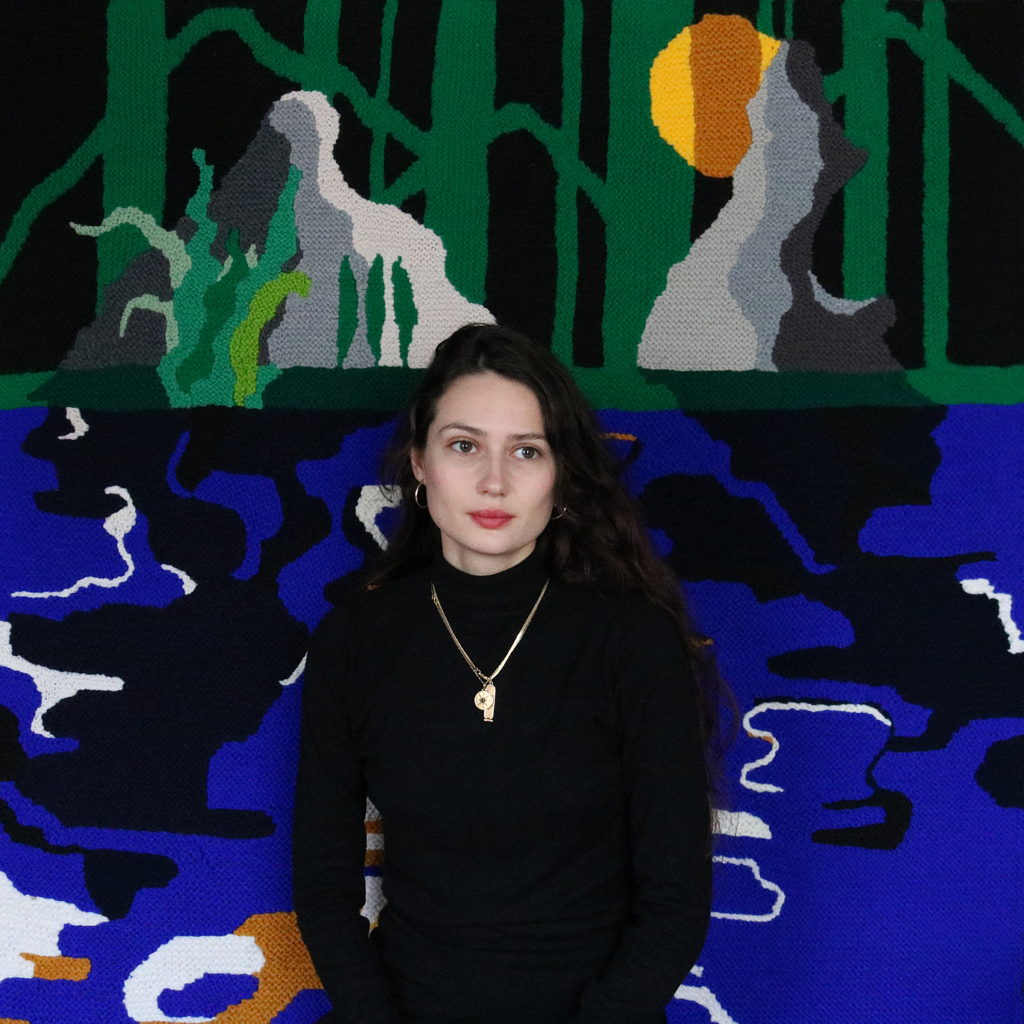 5-10 October 2021
with Spazio Nobile, TLmag & Catawiki
At Palazzo Valli Bruni – Accademia Giuditta Pasta, via Rodari 1, Como, Italy
& other locations in the city: Teatro Sociale, Palazzo Mantero, Accademia Aldo Galli and Ordine degli Architetti
Manon Daviet
The Two Rocks Lake
Hand knitted wool, 130 × 4 × 130 cm
Online Auction on Catawiki here from 1 until 10 October 2021
Check the program of Lake Como Design Festival here
Using various textile techniques like knitting, embroidery and tufting, Paris-based textile artist Manon Daviet transposes her drawings into tapestries, creating what she calls "volume paintings". After completing her studies at the Duperré School in Paris, Manon Daviet quickly dove into her desire to knit a large tapestry.Having learned to knit and crochet in a sculptural way during her education, she created two entirely hand-knit pieces in quick succession.
Among them, "The Two Rocks Lake" is inspired by a trip to Japan. 
Comprising multiple techniques in her textile creations, her interest in the great landscapes of her native Haute-Savoie, in comic books with their text bubbles and captions, in prints and picture books that sublimate nature, her tapestries captivate the eye and generate strong and invigorating emotions. "A month's stay in Japan left me a lasting impression on my imagination and inspired me to create "The Two Rocks Lake". The respect for the elements, the staging of nature, the elegance and precision in the composition of the gardens form a general aesthetic of great beauty. We take the time to contemplate each detail with much attention like we tend to do more and more nowadays. The rocks, the water or the trees appear to us as true works of art.  Inspired by French Jean Lurçat (1892-1966), renown for his whimsical and enigmatic tapestries in bright colors, I wanted to translate the poetry and mysticism I felt in front of these Japanese landscapes. By playing on the colored contrasts between the water and the forest, my desire has been to create a harmonious break between the verticality of the tree trunks and the random movements of the water. The abstract forms created by the reflection of the light provokes a beautiful and colorful movement that responds to the frozen and silent nature of the background."
Part of Season XVI- The New Age of Humanism at Spazio Nobile, Manon Daviet's mixed media tapestries magnify nature and amplify the connection between human and nature. Manon Daviet in that sense bridges XXth and XXIst centuries: with her inventivity in her use of tufting, weaving, knitting, she takes a step forward in the revival of contemporary tapestry at the fringe of contemporary applied arts and fine art.
She is a perfect "trait d'union" with Jean Lurçat's first tapestries created in 1917: Filles Vertes (Green Girls) and Soirée dans Grenade (Evening in Grenada). Tapestry becomes painterly, tridimensional and expresses, with weaving, life and soul. As Lurçat stated mid-XXth century: "To deprive a work of its subject is to deprive a sentence of its verb: meaning is lost, leaving the work devoid of all poetic impact."
Manon Daviet responds to it in an interview to TLmag SS 2020 curated by Formafantasma during the early pandemic period: "Textile techniques – whether sewing, embroidery or knitting – are the fruits of patience and perseverance: two fundamental human qualities in general, but ones that resonate particularly with today's events. The world is moving quickly and these manual processes let us slow down time, question how textile objects are made, and above all savour the simple happiness of making things ourselves. As for the textile arts, I don't really have an idea about the direct impact of the crisis. I imagine that we will see the conversion of many companies and workshops in the coming years. Some people will undoubtedly embrace the textile art world by reinterpreting existing techniques or by expressing their creativity using new techniques. Such new approaches will enrich this artistic field, and perhaps give it a little more weight in the contemporary art world."