Spazio Nobile & The New Age of Humanism: New Exhibition & Studiolo, Collectible Art & Design Gifts
— November, 30 2020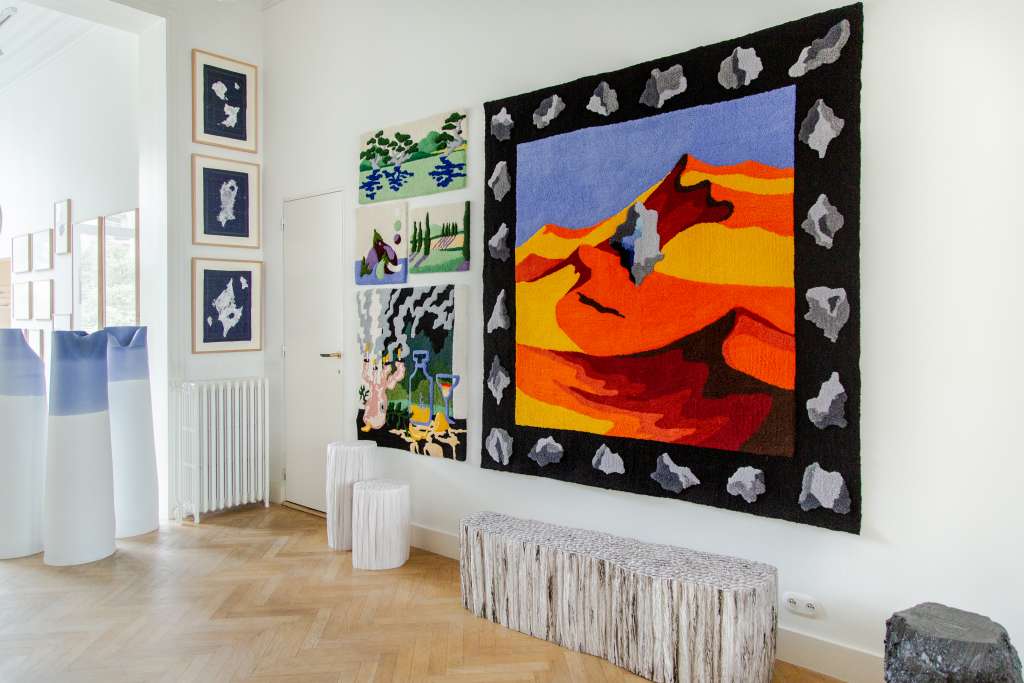 Season XVI- The New Age of Humanism is a long meditative journey which is running from 13 November 2020 until 14 March 2021, that is both experiential and holistic, physical and esoteric, terrestrial and cosmic.

Exhibition View of Season XVI- The New Age of Humanism with Manon Daviet, 2019, Les Roches du Ciel, 200 x 200 cm, tufted and knitted tapestry – Pao Hui Kao, 2020, Lacquer Leaf Bench with Urushi Lacquer Paint – Ernst Gamperl, 2020, three objects in turned ash wood, iron oxyde and maple wood, beached and limed – Garnier & Linker, 2020, Diatomée molten glass vases on the marble chimney, Bela Silva, Palm Springs, low table in glazed ceramics, Jesper Eriksson, 2020, Fossilized Coal Stools…
Photo by Margaux Nieto
More detailed photos below – scroll down!
The exhibition reopens at Spazio Nobile Gallery, rue Franz Merjay, 142 & 169, 1050 Brussels and celebrates the 5-year anniversary of the gallery. You are more than welcome! Ring the bell or book your visit for a guiding tour.

Amy Hilton, 2020, Sublimation, dry pastel, 120 x 80 cm combined to Adi Toch, Whispering Vessels, silver plated base metal, loose hematite spheres, Katherine Huskie, Echinus Topaz, squeezed molten glass vase and Jesper Eriksson, 2019, Fossilized Coal Console, Photo by Margaux Nieto
This collective exhibition – under the sign of authenticity and both human and organic presence – brings together more than thirty artists, designers and photographers represented by the gallery since its creation in 2016. In the atmosphere of an apartment to live in a 1920's house in Ixelles, with its beautiful marble fireplaces and year-round green garden, Spazio Nobile imprints its philosophy of living with art and design in these spaces of the bel étage (piano nobile) and his studiolo (cabinet of curiosities) spread throughout seven rooms and the garden of the gallery. Click on this link to book your visit

Vincent Fournier, 2020, Kintsugi photographs on Bizan paper, 50 x 35 cm, ed. of 3 + 2 A.P. with Musée Guimet, Paris
On the piano nobile of Spazio Nobile Gallery: Jörg Bräuer, Alexandre Chary, Sébastien Caporusso, Manon Daviet, Anne Derasse, Jesper Eriksson, Vincent Fournier, Ernst Gamperl, Garnier & Linker, Kaspar Hamacher, Amy Hilton, Katherine Huskie, Pao Hui Kao, Eva Le Roi, Silvano Magnone, Bela Silva, Lucile Soufflet, Piet Stockmans, Ann Beate Tempelhaug, Adi Toch, Fabian von Spreckelsen & Rain Wu.

Sébastien Caporusso, 2020, Hahen, low table in Terrazzo, marble and bamboo feet – Kaspar Hamacher,  2020, Full Ausgebrannt stools – Pao Hui Kao, 2020, Paper Pleats & Lacquer Leaf Collections – Anne Derasse, 2020, Hildegarde, console in smoked eucalyptus – Éva Le Roi, wall of drawings, ink on paper – Bela Silva, The Sleeping Beauty, glazed ceramic sculpture – Katherine Huskie, Echinus & Ostreum squeezed molten glass vases, Piet Stockmans, Example of A Landscape, oval in porcelain & Stockmansblauw, photo by Margaux Nieto
By privileging the quality and nobility of the materials, the beauty and the singularity of its artistic choices, Spazio Nobile creates a sensory and singular path. The gallery puts together its curated selection and editions of precious sculptural furniture, handmade objects and art photography signed by contemporary artists and designers.
 
Click on this link to book your visit

A wall of drawings by Éva Le Roi, ink on paper, photo by Margaux Nieto. Read her interview in TLmag
Find more information on our collections on instagram @spazionobilegallery & Artsy

Garnier & Linker, Diatomée molten glass vases collection within Season XVI-The New Age of Humanism

Ann Beate Tempelhaug, (No) Return porcelain stoneware wall installation  – Garnier & Linker, Diatomée, molten glass vases- Alexandre Chary, 2020, Santal collection (chairs & mirror), santal wood, ed. 30 made in Suzhou (West of Shanghai), Adi Toch, Whispering Vessel – Jesper Eriksson, Fossilized Coal Lighting Collection – Kaspar Hamacher, 2020, Duo Table, chiseled burnt maple wood – Fabian von Spreckelsen, 2019, The Soul Portrait, eroded metal sculpture
Click on this link to book your visit
Catalogue Season XVI- The New Age of Humanism
PR & Press: Sophie Carrée