Midsummer Smörgåsbord on Sunday 23 June, 12-18:00 within Season XII-The Finnish Season, Kustaa Saksi
— June, 17 2019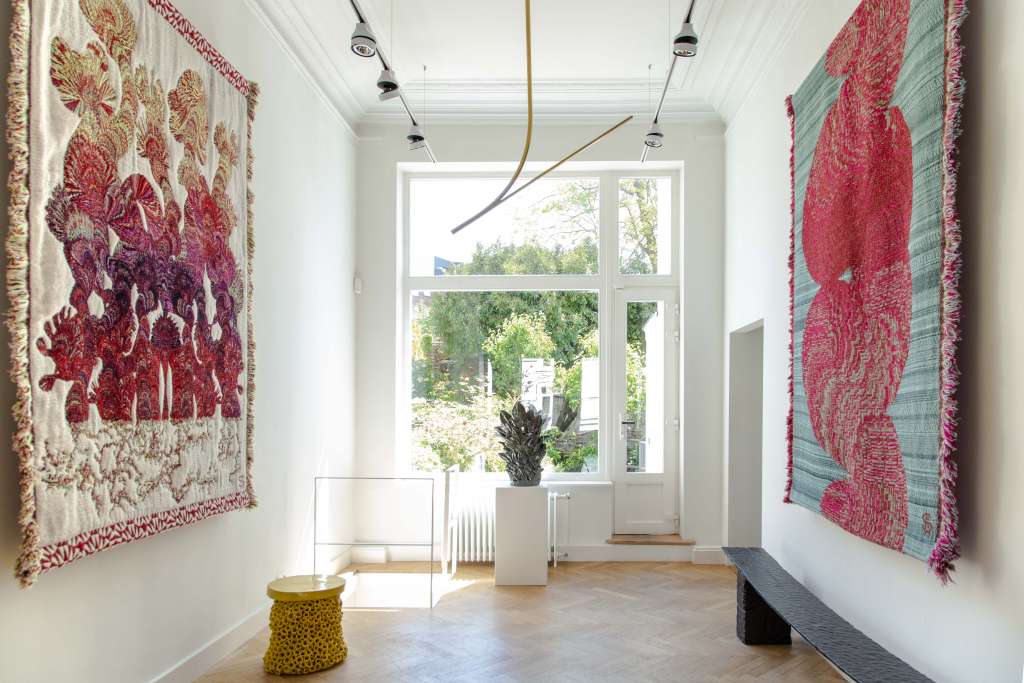 Spazio Nobile celebrates the Nordic Summer. Welcome to our Midsummer Smörgåsbord this Sunday 23 June from 12-18:00, rue Franz Merjay, 142. Free entrance.
Season XII- The Finnish Season, Kustaa Saksi, First Symptoms
First Symptoms is the new cycle of six woven tapestries by Kustaa Saksi, mixed media in silk, mohair, rubberized cotton, cashmere wool, transparent polyester and velvet. Saksi suffers from migraine and uses his symptoms as a way to overcome pain and search for beauty and meaning in life.
The exhibition runs until 8 September 2019 at Spazio Nobile, rue Franz Merjay 142, 1050 Brussels, Belgium
(the gallery is closed from 15 July until 25 August)
Download the full Finnish Season catalogue here
In collaboration with the Finnish Cultural Institute for the Benelux, Institut finlandais and Finland's Presidency of the Council of the EU 
Ongoing presentation of Spazio Nobile's editions by Kaspar Hamacher, The Shelves, The Chiseled Burnt Oak Collection, Bela Silva and Diatomée's molten glass vases by Garnier & Linker.
Studio Spazio Nobile Upstairs & Downstairs
Adi Toch's Silver Objects, 2019, for Spazio Nobile
Richu Lacquer Art, 2019, iridescent jewelry boxes in fine lacquer from Taiwan, unique pieces
Garnier Linker, Diatomée, 2018-2019, vases or sculptures in molten glass, for Spazio Nobile in front of the Smoke & Mirrors, bespoke mirror on demand, designed by Nathalie Dewez and the Wilde Strippen random series of 20 in Stockmansblauw porcelain by the Belgian master Piet Stockmans
Chen & Williams, Silvered Caviar Sconces, 2017, ed. 20 for Spazio Nobile are hanging on the wall, next to Bela Silva's unique ceramic sculptures; among them The Cylinder Series, 2018, in stoneware covered by pure Italian earth, Isaac Monte's Crystallized Chair, a tribute to the acclaimed Belgian architect Leon Stynen and Kaspar Hamacher's Der Stein, 2019, Ausgebrannt in solid oak
All photos by Margaux Nieto