Spazio Nobile Advent – A Week Before the Christmas Eve Collectible Art & Design Christmas Gifts
— December, 20 2020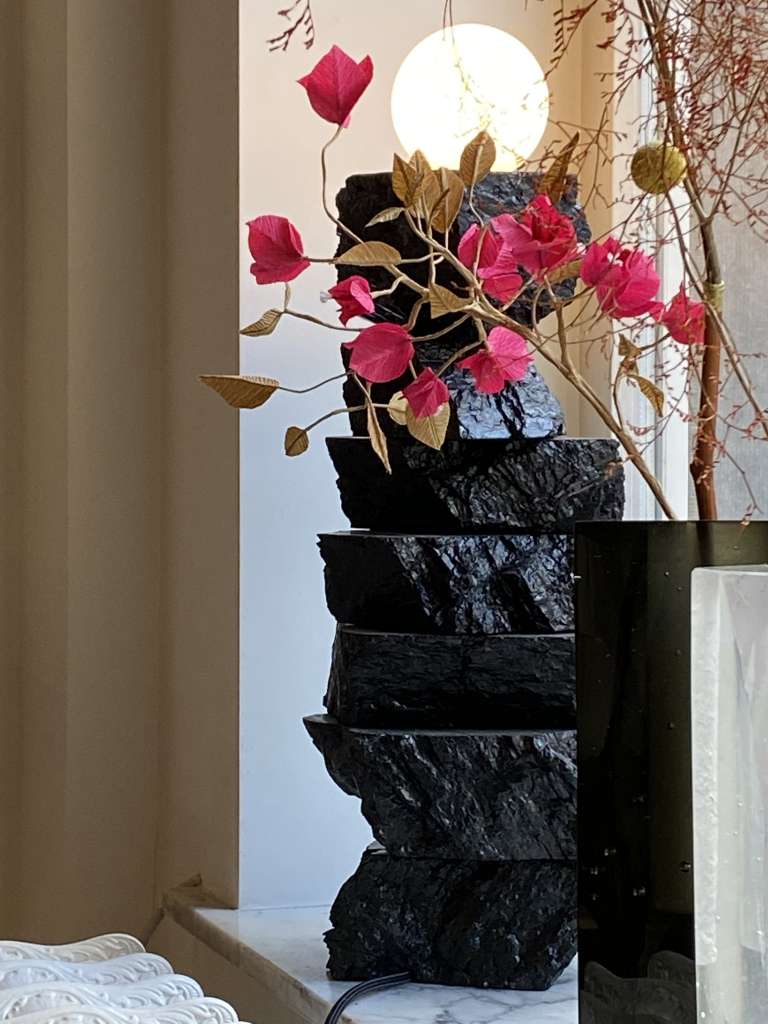 Spazio Nobile Advent
A Week Before the Christmas Eve
Collectible Art & Design Christmas Gifts
Spazio Nobile Gallery and the new exhibition Season XVI- The New Age of Humanism are open until Sunday 20 December, from 11am until 6pm, and by appointment,  rue Franz Merjay 142 & 169, Brussels (place Brugmann).
. 
You can pass by the gallery, just ring the bell or click here to make an appointment on our online calendar.  Download here our catalogue with prices & click on images and links below to access to Spazio Nobile Online Gallery.
On the pictures: exhibition views Season XVI-The New Age of Humanism featuring Jesper Eriksson's Fossilized Coal Lamps & Garnier & Linker's Diatomée Nearly Black molten glass vase & Paper Flowers by Annette Hormann
"Paper flowers and the poetry of impermanence. Those are uplifting moments, sitting down with rolls of paper in my favourite colours, a pair of scissors and simple glue, while the world outside is busy with its manifold hustle and bustle. One precise cut after the other, petals are shaped patiently through the time which is flowing through my fingers almost like water. It seems to me that little heaves of coloured swabs slowly fill the table and they look delightful and desolate at once, like the remains of a daisy you picked apart to find out about the secrets of your lover. But with paper flowers minutes are moving backwards. Instead of decaying, the flower springs into being and then remains – not forever but long enough to forget that hours are flowing through my fingers without respite." Annette H.Mann is a textile artist, painter and garden designer based in Brussels, Belgium. Inspired by the mystery of life with all its evocative facets, she sees art as a practice rather than an outcome and materials can be diverse.
As one changes, life is changing and so is art.

Garnier & Linker, Diatomée, sculpture or vase, lost-wax molten glass, ca 28 x 10 x 10 cm, ed. of 20 + 2A.P. in each color, unique pieces in a random collection for Spazio Nobile, € 2.500 (per sculptural vase),  Manon Daviet, mixed media tapestries, 1100 € for each

Rain Wu, The Sea Rises and Totally Still, fabric, sea water, salt, chalk, 66 x 55,5 cm, € 2.300 per piece
Adi Toch Blue Vessel Whispering Bowl, 2020, patina on silver plated base metal, loose hematite spheres, 7 x 14 x 14 cm, unique piece, € 2.900, within Season XVI-The New Age of Humanism along with Jesper Eriksson, Fossilized Coal Console, anthracite coal, tinted hardened glass, 90 x 135 x 50 cm, unique piece, price on request, Katherine Huskie, Echinus in Aqua, 2019, squeezed molten glass, sculptural vase, ø20 cm, unique piece, € 2.000 and Amy Hilton, Sublimation, 2019, dry pastel on paper, 80 x 120 cm, unique piece, framed and signed by the artist, € 5.500.
 

 Eva Le Roi, Wall of Drawings, ink on paper, Pao Hui Kao, Paper Pleats stools or side tables in tracing paper, rice glue & Sébastien Caporusso, Hahen, low table in terrazzo, marble and bamboo feet, in the room towards the garden. Photo by Margaux Nieto
___
Spazio Nobile Gallery, rue Franz Merjay, 142
& Spazio Nobile Studiolo, rue Franz Merjay 169, 1050 Brussels.
We are open from Tuesday to Saturday, including Sunday 20 December, from 11am until 6pm, or by appointment. You are more than welcome! You can also book your visit for a guiding tour. On the photo: Kaspar Hamacher, La Méridienne, burnt solid oak, part of Le Sacre de la Matière Collection & Petite Marguerite sheepskins quilt cushion by Carine Boxy
___

Find more information on our collections on instagram @spazionobilegallery & Artsy
On the photo: Ann Beate Tempelhaug, detail of her porcelain stoneware installation, (No) Return & Garnier & Linker, Diatomée Pink with Paper Flowers by German artist, collector & friend Annette Hormann.
___
Subscribe to TLmag 34 AH/AW 2020-21:
Précieux, Une Géologie de l'Être
Precious: A Geology of Being
Guest Editor: Amy Hilton 
Read stories and meet the artists and designers we represent with Spazio Nobile in TLmag Biannual Print Magazine and download it if you wish on your tablets.

On the covers: The Roter Kamm, impact du cratère dans le sud-ouest de la Namibie /impact crater in southwest Namibia, photo: Nasa – Lucia Bru, 2019, (both), argile/clay, photo: Axel Vervoordt Gallery – Amy Hilton, 2017, Pierre d'eau, encre de Chine sur papier /Chinese ink on paper – Amy Hilton, 2019, Paysage-sentiment, encre sur papier calque /ink on tracing paper, photos: courtesy of the artist & Spazio Nobile
__
You can browse and buy a selection our artworks online on Spazio Nobile and TLmag online platforms as well as on Artsy
Feel free to contact us:
Lise Coirier, +32 (0)475 53 19 88
Gian Giuseppe Simeone, +32 (0)477 27 29 04
Salomé Elbaz, +33 (0)7 86 17 68 20