Art Brussels Gallery Night within Season XI-Formosa: A New Layer Taiwan meets Yii, on Wednesday 24 April, 18-21.00
— April, 24 2019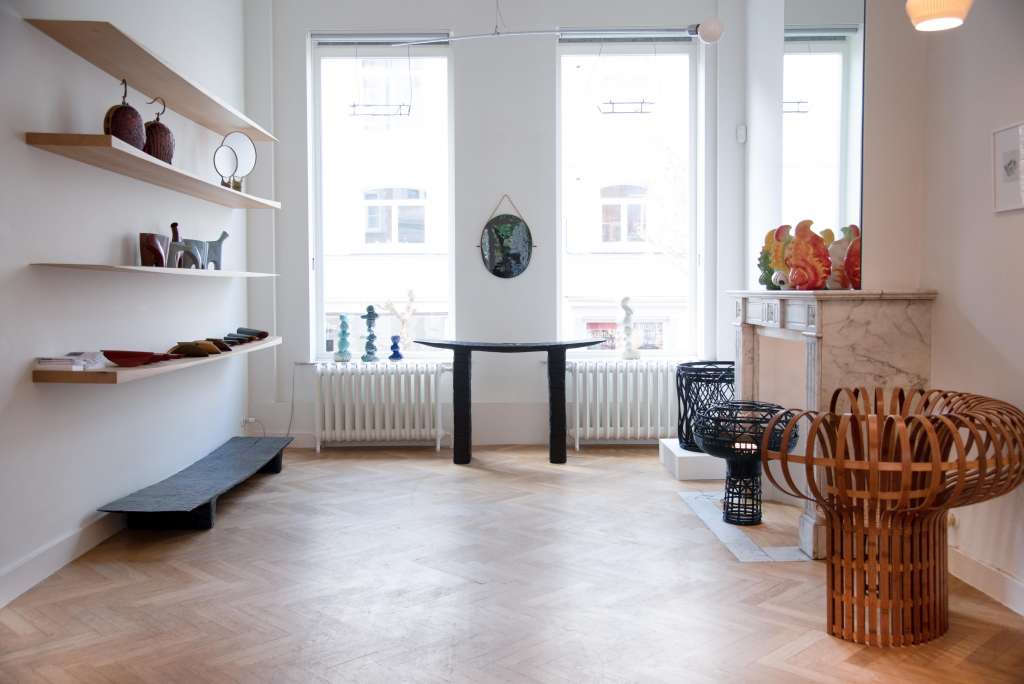 We are pleased to invite you to Art Brussels Gallery Night at Spazio Nobile, within Season XI- Formosa: A New Layer Taiwan meets Yii, which happens on Wednesday 24 April from 18-21.00, rue Franz Merjay 142, 1050 Brussels.
Formosa in brief
Formosa: A New Layer Taiwan meets Yii is a retrospective exhibition of a decade of local and international craft, art and design collaborations with Taiwan, supported by the Taiwanese Cultural Center in Paris, the NTCRI (National Taiwanese Craft Research and Development Institute), the Taiwanese Ministry of Culture, Spazio Nobile / Pro Materia.
In collaboration with: Lobmeyr (AU), Lyngby Porcelæn (DK), Thalie Lab (BE) & Émaillerie belge (BE).
Art direction: Lise Coirier / Scenography: Rain Wu
Photo by Margaux Nieto
Participating designers and craftsmen
Artists and Designers : Anton Alvarez (Chili-SE), Carina Seth Andersson (SE), BCXSY (IS-NL-JP), Cheng-Tsung Feng (TW), Gabriella Gustafson & Mattias Stählbom – TAF Architects (SE), Sebastian Herkner (D), Matti Klenell (SE), Jin Kuramoto (JP),  Chen-Hsu Liu (TW), Idee Liu (TW), Stina Löfgren (SE), Wonmin Park (KO), Poetic Lab (TW),  Julie Richoz (FR-CH), Richu Lacquer Art (TW), Cheng Tsung Feng (TW),  Rock Wang (TW),  Li-Hsin Wang (TW), Pili Wu (TW), Rain Wu (TW) & Studio O'Sullivan
Taiwanese craftsmen: Chin-Tuan Chiu, Ming-Zong Chen, Clay+art & craft co, Kao-Ming Chen, Pei-Tse Chen, Ching-Chi Huang, Mao-Hui Chen, Chin-Mei Huang, Jian Cheng Lin, Hsing-Tse Liu, Wu Xing Ceramic Art Studio, Ban Tao Yao, Ming An Wu, Shu-Fa Wu, Zhongyi Industry Co. Ltd. , Tsun-Jen Lee
Concept
Formosa : A New Layer Taiwan refers to the 'Beautiful Island' (at the time of the Ihla Formosa when the island was occupied by the Portuguese in the middle of the 16th century). It bridges Eastern and Western cultures. This forest-cloaked land that is Taiwan has a strong character and its crafts and qualities are very specific, unique and distinctive including some strong influences from various cultures such as the Dutch, the Chinese, the Japanese. Formosa is a title which embraces history, culture, art and design, and the island as a place for creation, including rich dialogues, exchanges and explorations of creative craft and design from here and abroad.
What Yii did in this myth for all China, the modern Taoist priest, still does for the local community: he recycles the "old energy" (ku-ch'i), and so gives the community a new breath. It is often called the "three virtualities" (san-ts'ai), which refers to the cultural triad of heaven, earth, and man.
Background of the exhibitions
A New Layer is an established network which has been set up – after the Yii Project curated by Gijs Bakker until 2011 – by a group of talented Swedish designers – Carina Seth Andersson, Matti Klenell, Stina Löfgren, Gabriella Gustafson & Mattias Stählbom – TAF Architects –, in close connection with the NTCRI (National Taiwan Craft Research and Development Institute), Taiwan. Following the experience of four years of intense relationships between Sweden and Taiwan between 2012 and 2016, Lise Coirier, art director of Pro Materia was appointed as curator end 2016 to set up A New Layer II, enriching the design-led craft dialogue between Taiwan and the rest of the world. Thanks to this cross-cultural platform of art and design, A New Layer Taiwan has been established in Spring 2018 as an international network enhancing a more fluid exchange of knowledge and competencies between highly talented makers from Taiwan (rattached to the NTCRI) and designers coming from Europe and Asia.
By working in close relationship with the NTCRI's ateliers, the designers from Europe and Asia have developed a series of experimental but ready-to-produce prototypes. They have opened up new potentialities and have generated dialogue about the conception, production and distribution of new typologies of objects for everyday use. By pushing even further the qualities of the Taiwanese handmade production and profiling it at a European and international level, this continuous exploration of materials and mixed media has led to explore not only lacquer, but also ceramics from Koji Pottery and Yigge Ceramic District and experimental bamboo weaving. A New Layer II that happened between July 2017 and June 2018 got gifted designed involved into the project such as Anton Alvarez (Sweden), Sebastian Herkner (Germany), Jin Kuramoto (Japan), Wonmin Park (Korea), Sayaka Yamamoto & Boaz Cohen – Studio  Bxcsy (Japan – Israel) and Julie Richoz (Switzerland – France). The official launch of the collection happened in June 2018 within the Design Curio featured by Spazio Nobile Gallery, in the framework of Design Miami/Basel.