Thewhitehotel: Belgian Designers Rooms 2010 – 2012
— October, 07 2010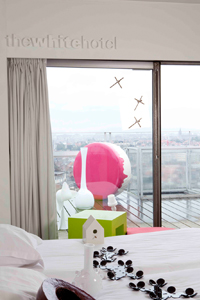 Since 2006, thewhitehotel has been showcasing over half a decade of evolution in contemporary Belgian design. The hotel, located in the centre of the most cosmopolitan district of Belgium's capital, has offered around sixty contemporary designers the opportunity to customise both its rooms and the lobby.
After four years of existence, the Belgian Designers Rooms have been shuffled and updated with a mix of existing and new objects, chosen by Pro Materia in close partnership with thewhitehotel, in order to provide the hotel clients with more comfort and conviviality. The hotel does not only host Belgian design objects, it also offers its guests the possibility of bringing some of those pieces home via its webshop.
The objects on show, designed both by emerging and well established Belgian designers, all promote the characteristic sense of quality and originality of Belgian design.