Human Cities Festival 2010 Celebrating Public Space
— May 6-16, 2010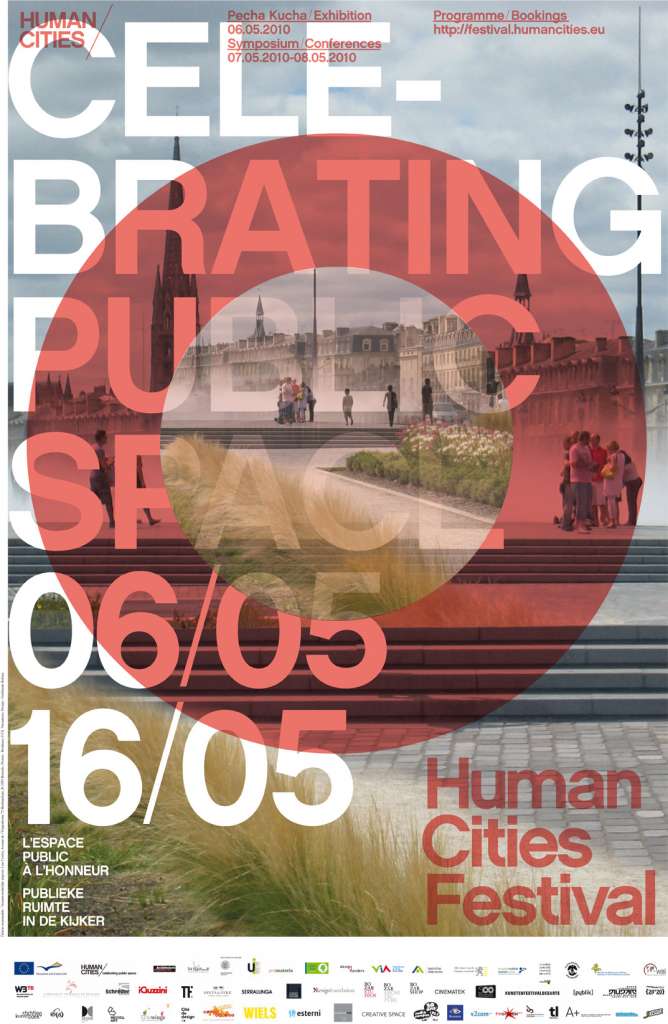 Pro Materia curated the first Human Cities Festival/Celebrating Public Space in Brussels from the 6th till 16th May 2010, a biennial event dedicated to public space. WithBOZAR as its main venue, where a symposium, conferences, exhibitions and happenings were organised, the festival offered a wide variety of events around town; mostly in the public space.
Families and the public at large were honoured through a series of more playful activities organised in collaboration with several local partners such as Recyclart, Citymine[d], Turtelwings, Kunstenfestivaldesarts, WIELS, BRASS. Throughout the festival the «Places to Be» exhibition creatively promote the work and reports selected from the international call for entries launched under the framework of this European project. The Bozarshop showcased books about public space while Cinematek, twinned with BOZAR, offered a selection of films and reports focused on the city and its human spaces. A Pecha Kucha event provided a forum for players in the public arena while various activities were offered for children, young and old, in the form of educational workshops or urban expeditions on the uses and appropriation of public spaces.
To emphasise the pleasure of this alternative appropriation of the city, an urban Sunday brunch took place on 9 May 2010 in the vicinity of BOZAR. Other unique forms of entertainment were organised throughout the festivities. Human Cities festival/Celebrating Public Space was the result of a European partnership «Human Cities: sustainable urban design» supported by the European Commision's «Culture 2007-2013» program. Launched by Pro Materia and l'ISACF-La Cambre, the initiative aims to establish an exchange of expertise, in a European context, in order to fuel an interdisciplinary debate on the sociocultural dynamics of sustainable design for urban public spaces. The aim is to promote a friendly and participatory approach for users and players involved in the city in order to encourage a more creative approach to managing urban public spaces.
For more info check this publication Celebrating Public Space: HC Book 2010.