Human Cities 2014-2018 Challenging The City Scale
— 2014-2018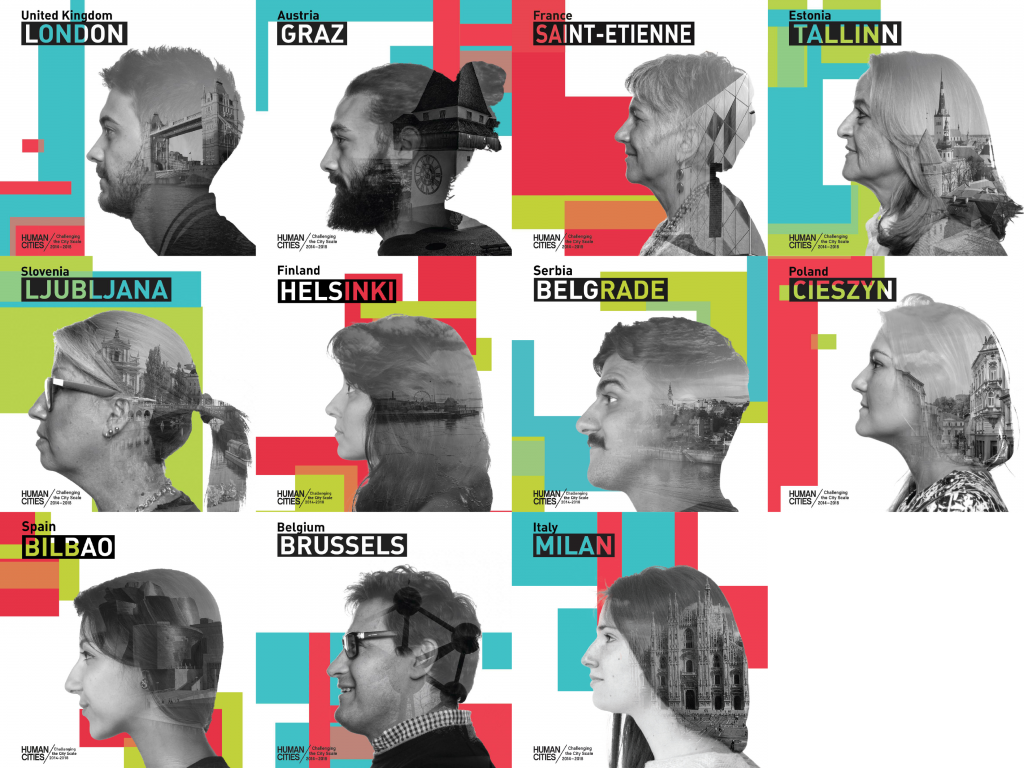 HUMAN CITIES Challenging the City Scale 2014-2018, founded by Pro Materia, co-funded by the Creative Europe Programme of the European Union, now led by Cité du Design from Saint-Etienne, is significantly different in scale compared to the previous editions. It has established a truly European and international frame in order to create the best place to be to engage design-driven initiatives taking place within the public realm. It aims to have a truly and positive impact on professionals and the general public. The European network of partners composed of 12 cities will develop and encourage from 2014-2018 people-driven initiatives and competencies. They will enlarge the awareness of the audience by taking part in the main design events in Europe welcoming several exhibitions, and acting in close relationship with other design networks in Europe and in the world.
Human Cities network highlights 13 strong and shared values:
Empathy
Wellbeing
Sustainability
Intimacy
Conviviality
Mobility
Accessibility
Imagination
Leisure
Aesthetics
Sensoriality
solidarity
respect
Human Cities network consists of wide variety of complementary partners which share these values. The network is composed of universities / departments of architecture and design, urban planning centers, design centers, design weeks, information and communication technologies platforms, service design and creative design consultancy agencies such as : La Cité du design (FR) – Politecnico di Milano (IT) – Urban Planning Institute of the Republic of Slovenia (SI) – Clear Village (UK) – Zamek Cieszyn (PL) – Association Design Week Belgrade (RS) – Pro Materia (BE) – Aalto University (FI) – FH Joanneum (AT) – Association of Estonian designers (EST) – Beaz (ES) – CultureLab (BE).
The Human Cities_Challenging the City Scale Research Project started with enlisting inspiring States of the Art and Case Studies. They offer inspiring cases for urban experimentation, and an analysis on the current bottom-up urban design movement and social innovation at a European scale. This research, in the form of Co-briefing sessions, Experiment Labs and Master classes, has a strong objective: a deep legacy to the local communities. Human Cities opens up to the wider public, thanks to the touring exhibition concept and the digital catalogue which goes with it.
The Human Cities project is planned according to 7 different work packages:
 'Human Cities State of the Art and Case Studies' from November 2014 until September 2015.
'Experiment labs' from April 2015 until April 2017,
'User experience and analysis of experimentation results' from March 2016 until June 2017,
'Productions, dissemination and public outreach' from January 2015 until September 2018,
'Meeting the audiences and organizing public events' from March 2015 until September 2018,
'Human Cities Masterclasses' from April 2016 until May 2018 and
'Management' & 'Communication' from October 2014 until September 2018.