Design Talk – 30 Nov, Causeway Bay, Hong Kong
— July, 12 2016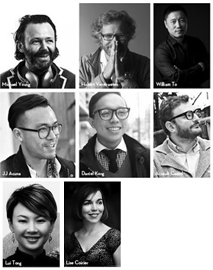 Design Talk was a round-table creative discussion to tackle the question "What is curation in Asia?" We were joined by designers, industry experts, journalists and bloggers from around the world.
Florence Coirier: is founder of buyMeDesign and 'curator of cool things.' She will be hosting the evening's discussion. Florence has an eye for curation and is passionate about revealing emerging designs and designers in Asia and beyond.
Michael Young: is a British born industrial designer who is now based in Hong Kong. Over his career he has worked with global names and has been creative director of a number of design festivals.
Lui Tong: is a strategic entrepreneur in China's luxury market, with a passion for fashion. Tong has worked as a buyer and brand manager for Lane Crawford as well as developing her own brands.
William To: is Project Director of Hong Kong Design Centre and Creative and Programme Director at PMQ. To is therefore a mainstay of Hong Kong's design community.
Hubert Verstraeten: and Tamawa have created a range of bright and bold plastic accessories with a passion for the production process. He is a knowledgeable designer with a keen interest in Asia.
Lise Coirier: is founder and editor in chief of TL Magazine. She has been involved in a range of successful publications, projects, and events that promote contemporary design in Belgium.
Arnault Castel: is owner of Kapok design stores in Hong Kong and Moleskine distributor in Asia. He has scoured the world for compelling designs to bring to Hong Kong.
Daniel Kong: is a prominent fashion writer and blogger in Hong Kong. His own blog, Black Renaissance, was named as an influential Chinese fashion blog by Independent Fashion Bloggers.
Wanderlister (JJ Acuna): is an architect and interior designer by day and moonlights as a style writer and blogger. His blog collects all that is hot in art, fashion, design and architecture in Asia and beyond.